Flowers for AuntieCrystal's Birthday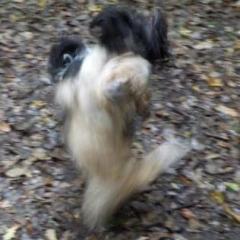 Entry posted by Crinkly ·
241 views
Cato:
We have been walking, and Mum has been piccing a bit, but we thought you would like these flowers, AuntieCrystal.  cos you are having a sad time.

We did lots of sniffy interesting stuff at the park that day as well, of course.
Oh, and I have to tell you that Tara is silly.
She was all fussy and fidgety on the sofa with Mum this evening, and now she has got two legs that haven't been brushed.  So she is walking all lopsided.
I have been brushed everywhere, cos I am a Good Little Man and I lay on my back in Mum's arms and let her brush all the nooksandcrevices wotever they are.  I like it.  
Tara is nearly 3 and she still has ticklish foots.