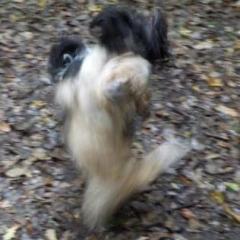 Entry posted by Crinkly ·
219 views
Cato:
it was terrible!  Mum and Dad went out, and only Dad came back!  
Dad came and sat on the sofa and we watched snooker stuff.  And we had treats and more dinner than usual.  But she hadn't come home by the time we went up to the Big Bed.  It was very worrying!
We went out for breakfast, and i wanted to get home really fast in case she arrived and didn't know where the pack was!  But she still didn't come home!
Then all of a sudden we could hear her!  And smell her!  And then she was on the floor saying hello!  And it was all OK again.
I'm going to sit on her ALL DAY in case she disappears again.
Tara:
Mum's home!
she woz gone for EVER, and we had sausages and Dad watched TV with me, and my hair fell down, and the Big Bed was even bigger, and i missed her and Cato was all soppy.  I am glad she is home.  I am going to wear my red bows next.  I like it when Mum does my hair, cos i can get really close and look at her, and she brushes me, and it is lovely.