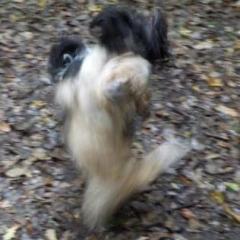 Entry posted by Crinkly ·
295 views
Tara:
My turn!  Cato has been hogging the blogging lately, so I get to tell you all how awesome I am.  And wot fun we had.  and stuff like that.  And there are more skypics for AuntieCrystal too.
This bloggification is about 2 different walks, cos that is how clever I am!  I can do two walks at once!
This is when we went the Big Lake Park, and Mum accidentally picced all the wrong things.  She picced birds and flowers and Cato and all the boring stuff.  But there isn't a single pic of ME!  Isn't that awful!  But I don't mind, cos you know I woz there, and I can tell you all about it.
Boring thistles
Boring Vetch
Horrible bouncy big splashy dogs in the swimming area wot I won't go in cos they are scary.  Mum says that you can see wot a lovely day it woz from the sun and the sky and stuff.  It was very sniffy too!
Cato pretending that he wanted to go swimming.  And he says I have to point out his tail to you.  Cos he says it is looking particularly good.  Not as good as mine, of course, but then you can't see it, can you?  Cos Mum didn't pic it.  Bad Mum!
Scary swans
Interesting ducks.  Mum says she likes this pic cos of the light and the water and stuff.  YAWN!
This is something called Duckweed.  Ducks eat it.  Only there weren't any ducks eating it cos if there had been I would have eaten the ducks!!! haha!
These are the sky picses for AuntieCrystal.
And these are more ducks wot were being cowards and not letting me eat them.  Wimps!
Right, so that woz walk number 1.
This is walk number 2 in Town Park.  This woz the walk where Mum took all the Rose pics for AuntieCrystal's birthday (my birthday is coming up soon!  I want cake and pink fish and Dad to stay home ALL DAY) so you have seen all the Rose pics before, so I don't have to be boring and tell you all about them, and I can tell you all about the interesting sniffy stuff!
Cato showing off his tail AGAIN
Cato catching up.  I am still not in this pic, on account of me being good and staying near Mum and Dad and not wandering off sniffing everything and getting left behind and having to catch up.  That is cos I am a good girl and Cato isn't.  Good I mean, not a girl.  Of course he isn't a girl.  He's a boy.
These are me having sniffing adventures and exploring and stuff.  Cato is tagging along.
This pic is all about the MUD and not about Cato's tail.  He is very boring about his tail.
See my fountain?  And my bench?  And Cato asking for a drink and treats.  Mum had to give him a drink to stop him drinking the lake.  She said 'Noooooo Cato!  That lake is full of duck poo!  Have this nice clean water instead.'  But he really wanted to drink duck poo.
This is my fountain again.  And the sky.  And a big giant bird thing in the tree.  I thought about going swimming but then I decided not to.