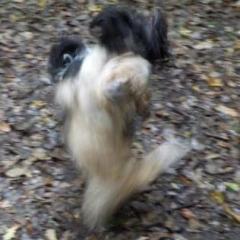 Entry posted by Crinkly ·
100 views
Tara:
Hello Aunties!!!
We went out with Dad's Mam for lunch.  Dad chose it special, cos he knew we could sit under table if we were veryveryvery good.  And we were!  Sort of.
I may have wanted some of the special roast beef that Dad had, but mean old Mum said no.  Not til we were outside in the garden of the hotel-pub-place.  
They had a nice garden with a pond 
and bluebell stuff
It was very nice.  All sunny and hot and sweltery.  I beat Cato up lots and lots til Mam said I was naughty, but Mum said 'this is nothing!  You should have seen her before she grew up!  It is just playing though.  And when Cato has had enough he lets her know.'
And he does.  Cos he is a boring spoilsport!
This is my bridge.  I would have crossed it, only Mum said no again.  She says no lotsandlots, doesn't she?
This is the view from the edge of the pub garden.  I went out into the field and had a widdle, cos I am good at watering green stuff.
There was a big Hooch (from Turner and Hooch) sitting outside the pub having his lunch.  He was HUGE!!!  I didn't like him, but Cato went up and said hello.