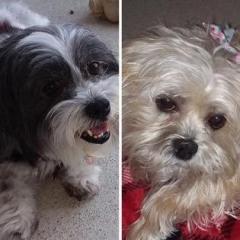 Entry posted by Missysmom ·
407 views
Hi my name is Piper! I thought I'd introduce myself cuz well... I don't think Missy will...
Anyway here's My story! I came to live with Missy and mommy and daddy this past Saturday night! See mommy and daddy had agreed to foster me cuz I needed a home. Yeah the rescue place where mommy volunteers told her about me. See I was found as a stray down in SC, they don't know how long I was out on my own... I do but I ain't tellin!

 It sure was long enough to get in Really bad shape though... I was totally depleted they say~ I don't know what that is, but I sure was hungry... mommy says you can still see my ribs..

And I got a Really bad skin infection and lost a lot of my hair and my ears hurt really really bad... they put me on lots of meds when they found me in late February. I stayed with a foster down there for a few months cuz they couldn't even spay me for over a month, till I got some better. 
Heres the picture they sent mommy and daddy when they found out about me!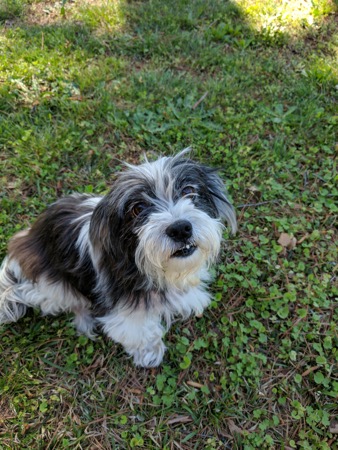 They did a good job placing me in this pic you can't see all my bald spots and mats... ohhh yeah I had big ole mats, mommy spent hours the first night cutting them out... feels a lot better with them out now! Mommy's worked a lot on my coat and finally just cut me short cuz there was no way to hide these bald spots! I don't care, I feel better and mommy says it'll grow back!

 here I am now!
I was sooo happy to be home on Saturday night, I just cuddled up to daddy and he was, well... smitten!! On Sunday morning he told mommy I wasn't going Anywhere and that Missy would get used to me! Soooo they Adopted Me!! I am Beyond happy!! 

Well cept for One thing... Missy, she doesn't seem to want to be my friend... I Don't know why... Maybe you guys could put in a good word for me?? She says she wants to talk to some one on here called Bristolle???? Ooooh wait.. wait..here She comes.... 

Pipe Down there Piper Girl... this is My Bog, My friends and I can speak for Myself...

Missy here- Hey Bristolle Noel, I'm feeling your pain over here...text me girlfriend.. we need to talk and  I don't want mommy to hear!
10