Sun, Fun and Turtle Love!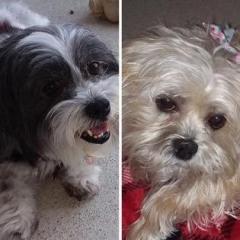 Entry posted by Missysmom ·
338 views
I just wanna lay in the Sun and enjoy the flowers! 
Missy
An I just wanna have Fun!
Oh an mommy's teachin me to chase sticks! I don't get the big deal though...you just lay and chew em up after ya chase em, huh?!

Piper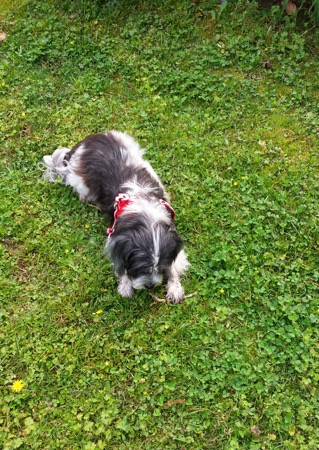 Sooo daddy's had places to go yesterday and today... so it's been girls day and mommy took us out to a show yesterday! Well it was Supposed to be a walk and we didn't know it was gonna be an X-rated show but it Was!!

 Mommy said it was called 'Turtle Love'! Yep Right in our yard! And Piper got to meet, err at least see, Touché! 
see?! Here they are Auntie Julia!
Well me an specially Piper didn't know What to think, being that close to them an all! I kept tellin Touché to stop, but course he didn't listen to me!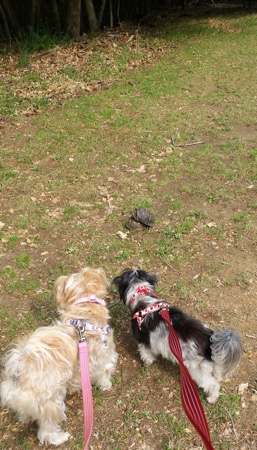 Wow when he Did stop though we heard that Loud Crash like Auntie Julia told us bout and saw Touché running into her, what a Loud bang those shells made!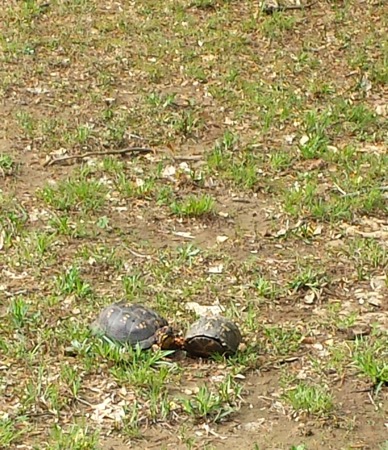 So yeah we left... and found Another friend! Hey has anybody seen Lizzie the Lizard? She was just here a minute ago! Mommy kept tellin me to look under me but she's Not there, Is she??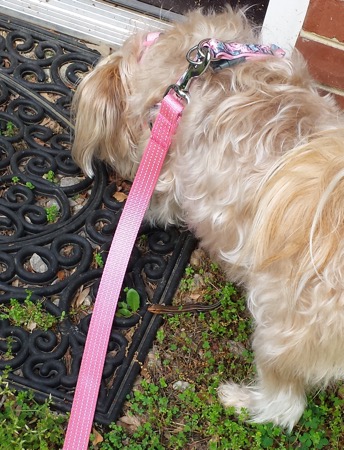 And Piper was No help at All....
Piper-- what's a Lizzie and Why do I care??? I'm just gonna lay here and watch you run around Missy!
Well me and Piper are still tryin to learn to like each other... sometimes I even let her sit in My window seat with me now!

Missy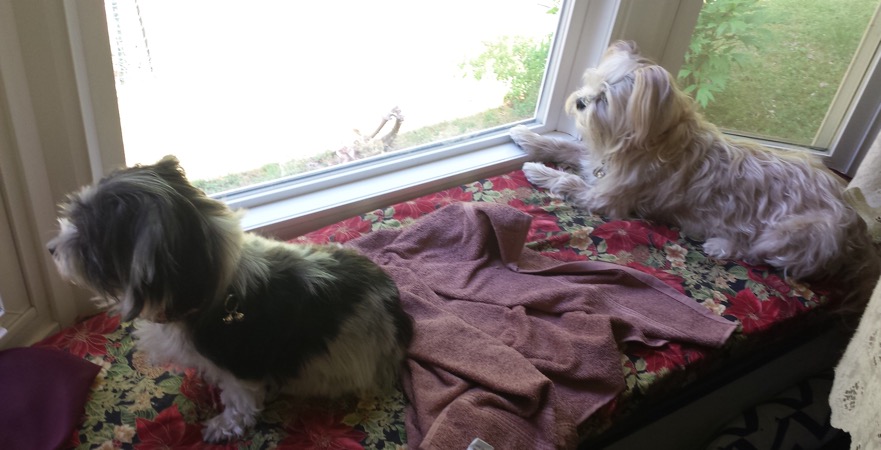 My daddy's gone again today, mommy had us watch horror movies and yum she made us popcorn!! We were supposed to go with daddy an have an Outting today but mommys foots still all swollen from that tick an she can't walk very good... so here we are... Another 'girls day'! Hope you enjoy your weekend!

Piper