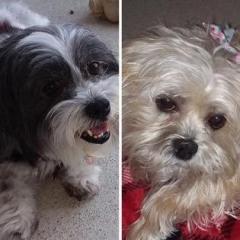 Entry posted by Missysmom ·
338 views
Hi Aunties! Me and Molly got our summer hair cuts and we wanted to show you!
Here I am, I decided it was soooo hot I wanted to go pretty short! Cept mommy got it a bit too short on my chest, it shows my bald spot.. hope that grows back fast!
Mommy couldn't get a good one like this for Molly cuz she's a wiggle butt! So here's one of us! Molly wanted to go super short, she's way hotter than me plus she's Always getting into something so mommy & daddy thought it was a good idea too!
And looky here, mommys finally starting to get it so we can see Molly's eyes better! She's got way littler eyes, mommy says everything bout her is sooo little it's a lot harder to do her! 
Hey Aunties, Molly here! Guess what, I get to try to keep a top knot!! I'm not sure I want one but I wanna try so mommy left it for me and sometimes mommy makes me a little one!
hope you still recognize us! 
Missy & Molly